What's Our Purpose?
We live in what's called a knowledge economy.  That means most people can no longer earn a living wage by making things, as they did in the factory.  Now the best jobs require great digital skills, high literacy, and the ability to keep learning new things.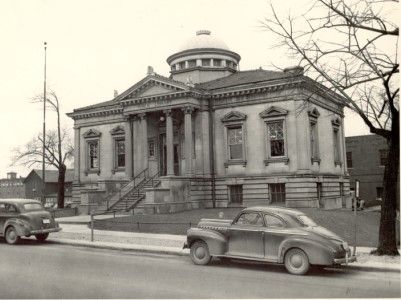 Our citizens must become lifelong learners if they want to succeed in the knowledge economy.  That's why our mission is to be Flint's go-to place to learn for life. 
This mission helps to guide our service priorities, or the areas in which we focus. Some things are a given.  For example, we'll always have books!  We'll always be the place for local genealogy and history. But we invest most of our resources in the following three priorities.
Early Childhood Literacy: helping parents and caregivers prepare children to read, and exposing kids to STEM programming.
Digital Learning: filling the technology education gap by exposing students to aspects of computer science, and making technology accessible to the public.
Community Hub: we want to provide abundant and welcoming space where people can gather for learning, dialogue or entertainment.
A Bit of History
The Ladies Library Association, founded in 1851, donated their building and collection to Flint Community Schools in 1885. At that time, most libraries around the country were open only to fee-paying members. The creation of a "free public library for the citizens of Flint" was a bold and innovative move. This small group of forward-thinking ladies took action decades ahead of the public library movement funded by Andrew Carnegie in the early 20th century. They made their gift because they believed everyone should have unfettered access to learning.
1905: Flint was awarded a grant by the Carnegie Foundation to build a new library building on the corner of Kearsley and Wallenberg.
1958: the Main Library on the Flint Cultural Campus was dedicated.
1990: a two-story addition to the Library was built.
1999: the Library separated from the Flint School District and became a separate unit of government, accountable directly to Flint residents.
2020: the Library moved into temporary space at Courtland Center, and the renovation began.
2022: the fully renovated Flint Public Library reopened to the public.
How We Are Funded
Public libraries in Michigan are funded almost exclusively at the local level.  State aid to libraries is minimal. Gloria Coles Flint Public Library receives the maximum millage available by state law. Unfortunately, with property values still low, that equates to substantially fewer revenue dollars than were being received ten years ago. Flint residents have done as much as they can by supporting the millages; the rest is now up to us.
This is why private dollars are an increasingly important part of the Library's financial sustainability. The Library is very fortunate to have a generous and active Friends group that contributes each year to the operating needs of the Library.
We are also extremely grateful to the local foundations and individual donors who invest in the Library for the good of our community. Generous donors help us maintain more open hours, expand our programs, and increase our reach into the community.  We rely on gifts to extend the leverage of our taxpayer funding.  In this way, we effectively reduce the barrier of cost, and help ensure that everyone can join the movement towards lifelong learning.  We invite you to become a Library supporter today.
More About the Library!
We invite you to explore our web site to find out more. Discover our collections that include more than 150,000 books and media to check out or to download and stream. Read about the Black Life and Literature collection. See our Local History and Genealogy Room with the second largest collection of openly accessible genealogy materials in Michigan. Bring your own technology or borrow ours to log on to our Gigabit Internet service. Reserve a room from study room size up to a large community room for your organization's next big program. Welcome to Your New Gloria Coles Flint Public Library.